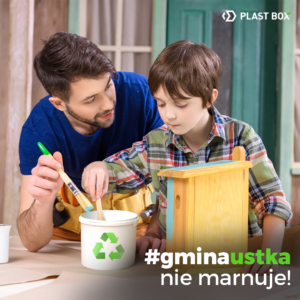 On 15 February 2021, the competition committee, whose members included representatives of the Plast-Box Group, judged the competition #GminaUstka does not waste. The zero-waste action was organised by the Cultural Centre of the Ustka Commune, under the patronage of the Commune Mayor of Ustka. The Plast-Box Group is a partner in and one of the sponsors of this initiative.
The participants' task was to prepare a competition entry based on materials ostensibly no longer usable. Everyone who took part in the competition did a great job, and proved that waste can be used to make really beautiful things without having a negative impact on the environment. The jury selected 9 of the most-interesting entries in 3 thematic categories: I – Feeder, II – Bag, III – Individual Idea. The competition was open to everyone, regardless of age.
List of winners
In the Feeder category
Youngest participant: The Wesołe Nutki Group – A Sunflower Kindergarten from Ustka
Oldest participant: Małgorzata Kąkol from Zaleskie
Most-creative idea and execution: Szymon Maksymiuk from Rowy
In the Bag category
Youngest participant: Seweryn Dziemidok from Machowino
Most-creative idea and execution: Natalia Drużba from Pęplino
In the Individual-Idea category
Oldest participant: Iwona Szczepocka-Adach from Pęplino
Youngest participant: Szymon Maksymiuk from Rowy
Most-creative idea and execution: Agnieszka Drużba from Pęplino
The Plast-Box Group is very keen to support the local community in its activities for the benefit of natural environment.
" The idea of 'zero waste' is particularly close to our hearts. If we can do something for the environment, let's not hesitate – let's give a second life to unwanted things!"  says Artur R. Skonieczny, Sales Director of the Plast-Box Group.  -"Competitions such as this prove that ecology goes hand in hand with creativity, and can be a great 'excuse' to have fun. For all generations," he adds.
Sustainable development and the resulting need for pro-environmental education are issues of great importance at the Plast-Box Group. The Company has long supported and practised the idea of the closed loop, systematically increasing the proportion of recycled plastic in its packaging, and producing recyclable containers.
https://www.facebook.com/847452268709353/posts/3636319526489266/